Shared Office Space Available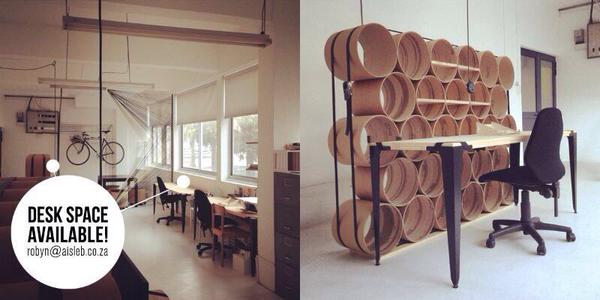 One of the first things we did when we moved to CT 6 months ago was find an awesome place to work from. We found a home in an amazing little office share on Roeland street (A short walk from Orms). Sharing the space with some designers, architects and illustrators we felt inspired to go to work every day and tackle the crazy amount of editing that we had to catch up on!
After much deliberation, we've decided to move back to working from home. We're looking for a new house / apartment in the city, and plan to get an extra room to work from (keep an eye out for an awesome space for us!). As a result our desks are up for grabs! Before we put it out to the masses on gumtree, we thought we'd share it here, in case some like minded individuals would like to grab this amazing space.
The details are simple,
You get:
A Dedicated Desk
A Dedicated Chair
Access to the office Wifi.
Use of the shared Kitchen
You pay
R1,500 per desk (Currently 2 available).
If you're keen,  drop an email to Robyn@aisleb.co.za to check it out and meet the people in the office.
Since we're moving back home, the space is available anytime from now. (We'll def be out of there by the end of next month, but can move out sooner if we find the right person to take over).
This isn't a hot desking setup, so they're looking for people who would like to stay medium – long term.